With the decade coming to an end, we are counting down the top 10 ATP and WTA players of the 2010s - Dominic Thiem comes in at No. 9 on the men's side!
After establishing himself as a force on clay, Dominic Thiem went out of his comfort zone to make great strides on hard courts in 2019, ending the decade as the No. 4 player in the world. He comes in at No. 9 in our player of the decade countdown, and if he continues to develop at this rate, he will be significantly higher by the end of the 2020's!
To celebrate the 2010s coming to an end, BettingPro's tennis experts Andrew Hendrie, Hannah Wilks and Leye Aduloju have chosen their top-10 ATP and WTA Tour players of the decade. Today we profile Uworld No. 4 and two-time French Open finalist, Dominic Thiem, no. 9 on our list.
WTA player of the decade no. 10: Venus Williams
ATP player of the decade no. 10: Jo-Wilfried Tsonga
ATP No. 9: Dominic Thiem
2010-19 fast facts
Highest ranking: No. 4 (Current ranking; first attained in November 2017)
ATP titles: 16 (25 finals)
Masters 1000 titles: 1 (Indian Wells 2019)
Top 10 wins: 24
Combined wins over 'Big Four': 15
Prior to last season, Thiem was regarded almost exclusively as a clay-court expert, and anointed the heir apparent to Rafael Nadal's clay kingdom- which isn't bad at all- but not content with being a one-surface wonder, the Austrian made major improvements on hard courts in 2019, becoming a far more complete player.
Thiem did not make his Grand Slam main draw debut until 2014, the same year he reached his first tour-level final, and did not claim his maiden ATP title until 2015, but he has produced a fine second half of the decade to establish himself as one of the best players in the world.
The Austrian has quickly raced away to 16 titles, and 25 career finals, including two finals at Roland Garros (lost to Nadal in 2018 and 2019). Outside Roger Federer, Rafael Nadal, Novak Djokovic, Andy Murray and Stan Wawrinka, Thiem is one of only three players to make multiple Grand Slam finals in the last decade (the others being Marin Cilic and Kevin Anderson). He also reached the French Open semi-finals in 2016 and 2017. The Austrian has one Masters 1000 title to his name, from Indian Wells in 2019, while he contested finals in Madrid in 2017 and 2018.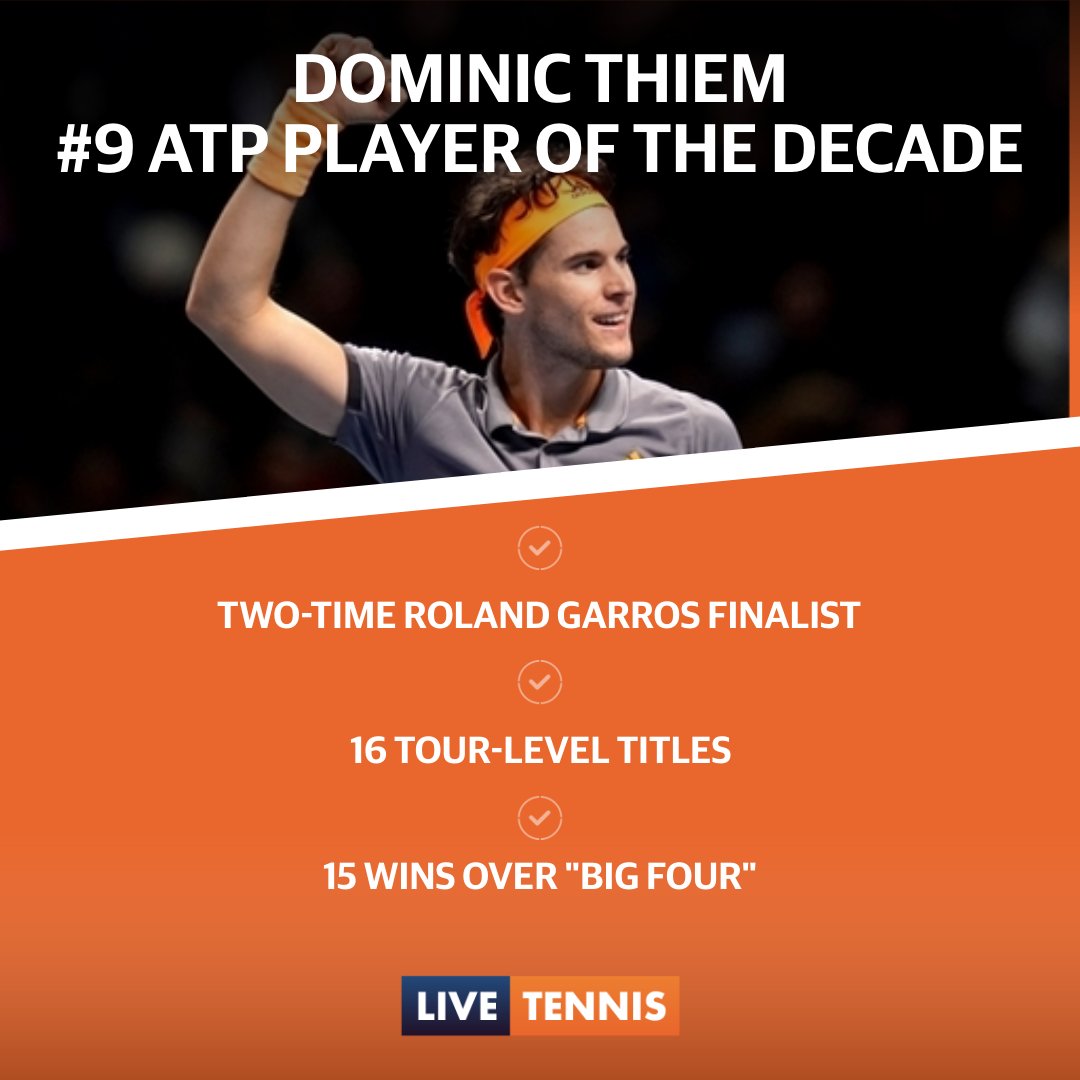 It is true that Thiem does his best work on clay, as he is yet to contest a major semi-final outside Roland Garros, but he made giant strides on hard courts in 2019, under the guidance of Chilean coach, Nicolas Massu. Before 2019, he had only won three titles outside clay, but he doubled that number last season.
Thiem won his maiden Masters 1000 title at Indian Wells, defeating Roger Federer in the final, and claimed ATP 500 titles in Beijing and Vienna towards the end of the year. He was also runner-up at the Nitto ATP Finals, defeating both Roger Federer and Novak Djokovic in the round-robin phase before falling to Stefanos Tsitsipas in the final.
Thiem first broke into the top-ten in June 2016, and has not left that bracket since then. He has been a top-five player since March 2019, and has spent almost half of the year at his career-high ranking of No. 4. He first touched that personal best ranking in November 2017. He has got a total of 24 top-ten wins including a combined 15 over Federer, Nadal, Djokovic and Murray.
The Austrian has shown an admirable desire to improve, and at 26, he is at a prime age, and looks set for a long stay at the top echelon of the men's game. Beyond his supreme talents, he has also got a very likeable personality, which has further endeared him to tennis fans around the world.
There's a lot more to come from Dominic Thiem in the 2020's, and while we look ahead to that with great anticipation, we celebrate the excellent Austrian for the work he's done over the last few years. He earns a spot at No. 9 in our player of the decade series.