Three-time Grand Slam champion and former World No. 1 Andy Murray would have been No. 1 in any other decade, but because of three certain individuals named Djokovic, Nadal and Federer, the Scot comes in at No. 4 in our ATP players of the 2010s countdown.
Three-time Grand Slam champion and former World No. 1 Andy Murray would have been No. 1 in any other decade, but because of three certain individuals named Djokovic, Nadal and Federer, the Scot comes in at No. 4 in our ATP players of the 2010 countdowns .
To celebrate the 2010s coming to an end, bettingpro.com's editors Andrew Hendrie, Hannah Wilks and Leye Aduloju have chosen their top-10 ATP and WTA Tour players of the decade. Today we profile three-time Grand Slam champion Andy Murray, No. 4 on our list.
ATP No. 4: Andy Murray
2010-19 fast facts
Highest ranking: No. 1 (41 weeks, 2016-17)
ATP titles: 32 (U.S. Open 2012, Wimbledon 2013, Wimbledon 2016, Olympic Games 2012 & 2016)
ATP finals: 16 (Australian Open 2010, 2011, 2013, 2015, 2016, Roland Garros 2016, Wimbledon 2012)
Davis Cup titles: 1 (Great Britain, 2016)
Eight wins over World No. 1s
Has anyone taken us on a more emotional roller-coaster over the decade than Sir Andrew Barron Murray OBE?
Horrendously unlucky to be born into the same era as the three greatest players of all time (in terms of Grand Slams won), Murray would undoubtedly have been No. 1 on this list if not for the superhuman trio of Novak Djokovic, Rafael Nadal and Roger Federer.
Nevertheless, Murray has gone on to compile an absolutely magnificent career, built on pure heart and determination. He's experienced the highest of highs and the lowest of lows over the last 10 years and taken us all along on the journey with him.
Considering he's been forced to duel with Federer, Djokovic and Nadal during his entire career, what Murray has achieved can be labeled as extraordinary, with nobody else coming close (no, not even Stan Wawrinka, No. 5 on our list) to replicating what he's done.
Throughout the decade, Murray has won three Grand Slam titles, finished runner-up at seven more majors, claimed 10 Masters 1000 titles, secured two Olympic singles gold medals, won the ATP Finals crown, guided Great Britain to Davis Cup glory and spent a total of 41 weeks as the World No. 1. And that's not even mentioning the countless other Grand Slam and Masters 1000 semi-finals and quarter-finals.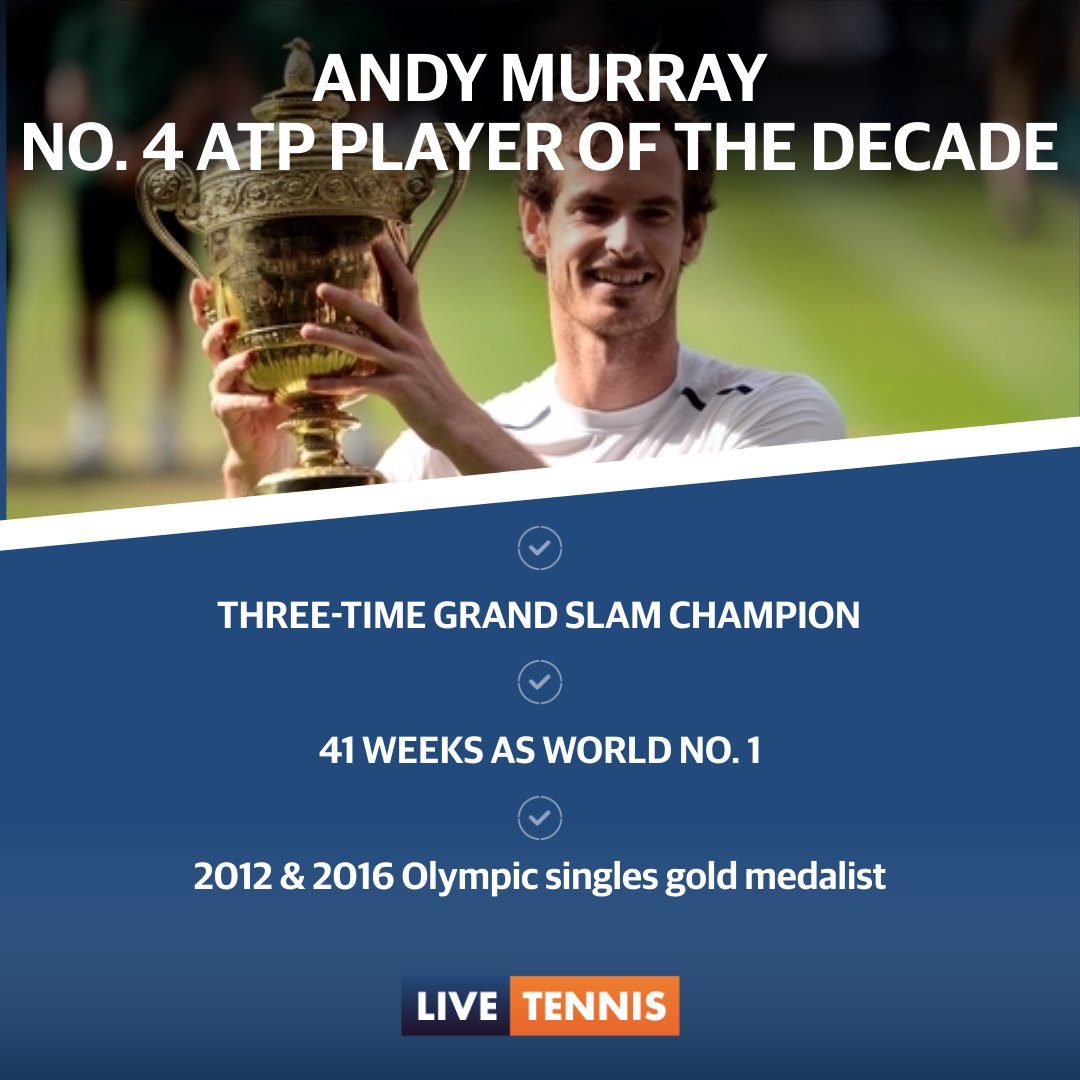 Overall, Murray has lost 22 finals throughout his career – and 16 of those have come against Djokovic, Federer and Nadal, further highlighting how the trio have prevented him from increasing his title count and solidifying his status as an all-time legend.
However, to me, Murray will forever be an all-time great of the sport, regardless of his numbers, which obviously don't to his career justice.
By the time the 2010s rolled around, Murray was already a Grand Slam finalist and had reached No. 2 in the world, but he'd have to endure a lot more heartbreak in order to achieve his primary goals of winning a major and hitting the No. 1 ranking.
Murray equaled his coach Ivan Lendl's unwanted record of losing his first four Grand Slam finals as he finished second-best at the 2008 U.S. Open, the 2010 and 2011 Australian Opens and Wimbledon in 2012, losing to Federer three times and Djokovic once. But Murray wasn't to be denied a fifth time, playing one of his finest ever matches in the 2012 U.S. Open final against Djokovic, outlasting the Serbian in four hours and 54 minutes as he prevailed 7–6(10), 7–5, 2–6, 3–6, 6–2 in a record-equaling final in New York for the Open Era. It was the first tournament since the 2004 French Open that neither Federer or Nadal were in the semi-finals of a Grand Slam event, paving the way for Murray to become the first British man to win a major singles title since Fred Perry in 1936.
With the unforgiving and relentless British media suffocating him with pressure and expectation, you could argue no other athlete in sport was under more pressure than Murray prior to that triumph, but after shaking that Grand Slam monkey off his back, the Scot was able to move forward with his career and continue to land more milestones.
Murray became the only tennis player in history, male or female, to win two Olympic singles gold medals when he did so at the 2012 and 2016 Games in London and Rio de Janeiro, while he once again ended a long-suffering British drought, this time breaking through to win the 2013 Wimbledon title with another triumph over Djokovic, becoming the first Brit to hold up the trophy since Perry in 1936 and first player from Scotland since Harold Mahony in 1896.
The Australian Open would continue to elude Murray throughout the decade as he tallied up five finals, many of those ending in tears on the presentation stand, but that was one of the countless endearing qualities that started gaining Murray more fanfare around the world – he's never afraid been afraid to show his emotions or speak up for what he believes in.
Murray's last Australian Open final came in 2016, which would ultimately turn into his career-best year after ending 2015 by leading Great Britain to the Davis Cup title, going 11-0 across singles and doubles. Murray made his first French Open final, losing to Djokovic in four sets, and captured his second Wimbledon title with a straight sets win over Milos Raonic (the first time he played someone other than Djokovic or Federer in a major final). With three Masters 1000 titles secured in Rome, Shanghai and Paris (along with a second Olympic gold medal in Rio), Murray ended the year as World No. 1 for the first time after he won the season-ending ATP Finals title in London. He was the oldest first-time singles No. 1 in the last 40 years, again highlighting how Nadal, Djokovic and Federer collectively stopped Murray from earning the numbers his talent deserved.
However, Murray's hectic end to the season (where he won his last 24 matches) caught up with him the following year, and he's ultimately never been the same since. Murray started to struggle with his hip, and although he didn't publicly say it at the time, he was on one leg as he limped out of his Wimbledon title defence in the quarter-finals against Sam Querrey. Forced to miss his first Grand Slam since 2013 at the U.S. Open, Murray harboured hopes of playing the Australian summer in January 2018, but again his hip wasn't up to it and he withdrew from the Australian Open.
After undergoing his first round of hip surgery soon after, Murray returned for the grass season, but announced he wasn't ready for five-set tennis and pulled out of Wimbledon. As a result, his ranking dropped to No. 839, his lowest since his first day as a professional in 2003, while Murray was forced to withdraw from another tournament during the North American summer, doing so at the Citi Open in Washington after earning a dramatic three-set win over Marius Copil that didn't finish until after 3.00am local time.
It was after that match that we recently saw Murray opening weeping under his bed sheets in the recently released Amazon Prime Documentary entitled Andy Murray: Resurfacing. The former World No. 1 had come to the realisation that he couldn't possibly continue playing tennis with his hip in its current state. Murray ended up playing the U.S. Open and Shenzhen, losing early to Fernando Verdasco on both occasions, before shutting down his season.
With a couple of months to ponder, it dawned on Murray that is career could very well be over. He announced during an emotional press conference that the 2019 Australian Open might be his last tournament, with Tennis Australia organising a tribute video for him after losing an epic five-set opening round match against Roberto Bautista Agut, with the likes of Federer, Nadal, Djokovic and more all paying their respects to a career that appeared as if it was about to end. However, Murray underwent what would ultimately be career-saving hip resurfacing surgery, becoming the first singles player to return to action from the procedure when he did so in Cincinnati in August after an initial comeback in doubles during the grass season, where he won his first tournament back with Feliciano Lopez at Queen's Club.
Murray would end 2019 by winning his first title in two-and-a-half years at the 250 event in Antwerp, beating fellow three-time major champion Stan Wawrinka in the final, capping a successful return to tennis.
Overall, Murray's decade can be summed up as 'what might have been' if he wasn't born into the same era as the three most dominant players in history. But, in saying that, if you ask Murray he probably wouldn't have wanted it any other way – he pushed himself to the absolute limit to stand among Federer, Djokovic and Nadal as champions, literally putting his career and physical well-being in jeopardy in order to best them and become the World No. 1. One of the most competitive athletes we've seen across any sport, what Murray has achieved over the last 10 years in the toughest era of tennis has been downright incredible and inspiring to witness – let's hope he can remain injury-free and create more memorable moments in the 2020s before hanging up the racquet on his terms