With the decade coming to an end, we've decided to countdown the top 10 ATP and WTA players of the 2010s - and today, on the men's side, we're starting with No. 10 Jo-Wilfried Tsonga!
No. 10: Jo-Wilfried Tsonga (FRA)
2010-19 fast facts
Highest ranking: No. 5 (2012)
ATP titles: 13
Masters 1000 titles: 1 (Canada, 2014)
ATP finals: 11 (ATP Finals 2011, Paris Masters 2011, Shanghai Masters 2015)
Davis Cup titles: 1 (2017)
Davis Cup finals: 3 (2010, 2014, 2018)
Top 10 wins: 31
Combined wins over 'Big Four': 11
One of the most entertaining and charismatic players we've seen in recent memory, Tsonga has been an absolute joy to watch throughout his entire career, and indeed the last decade.
Although the Frenchman achieved his most noteworthy result in 2008, when he made his one and only Grand Slam final at the Australian Open (losing to Novak Djokovic), Tsonga has maintained a strong presence at the very top of the game for the majority of the last 10 seasons.
Now 34 years of age, Tsonga finished inside the world's top 15 every season between 2010 and 2017, reaching a career-high ranking of No. 5 in 2012 when he won his second Masters 1000 title in Toronto, putting together a memorable run to the silverware as he conquered the likes of Djokovic, Andy Murray, Roger Federer and Grigor Dimitrov.
Capable of beating absolutely everyone on tour when firing on all cylinders – as illustrated through his 31 top 10 scalps for the decade and 11 against the Big Four of Djokovic, Nadal, Federer and Djokovic – Tsonga is one of those players that surely would have won a major title or more Masters 1000 crowns if it wasn't for that superhuman quartet.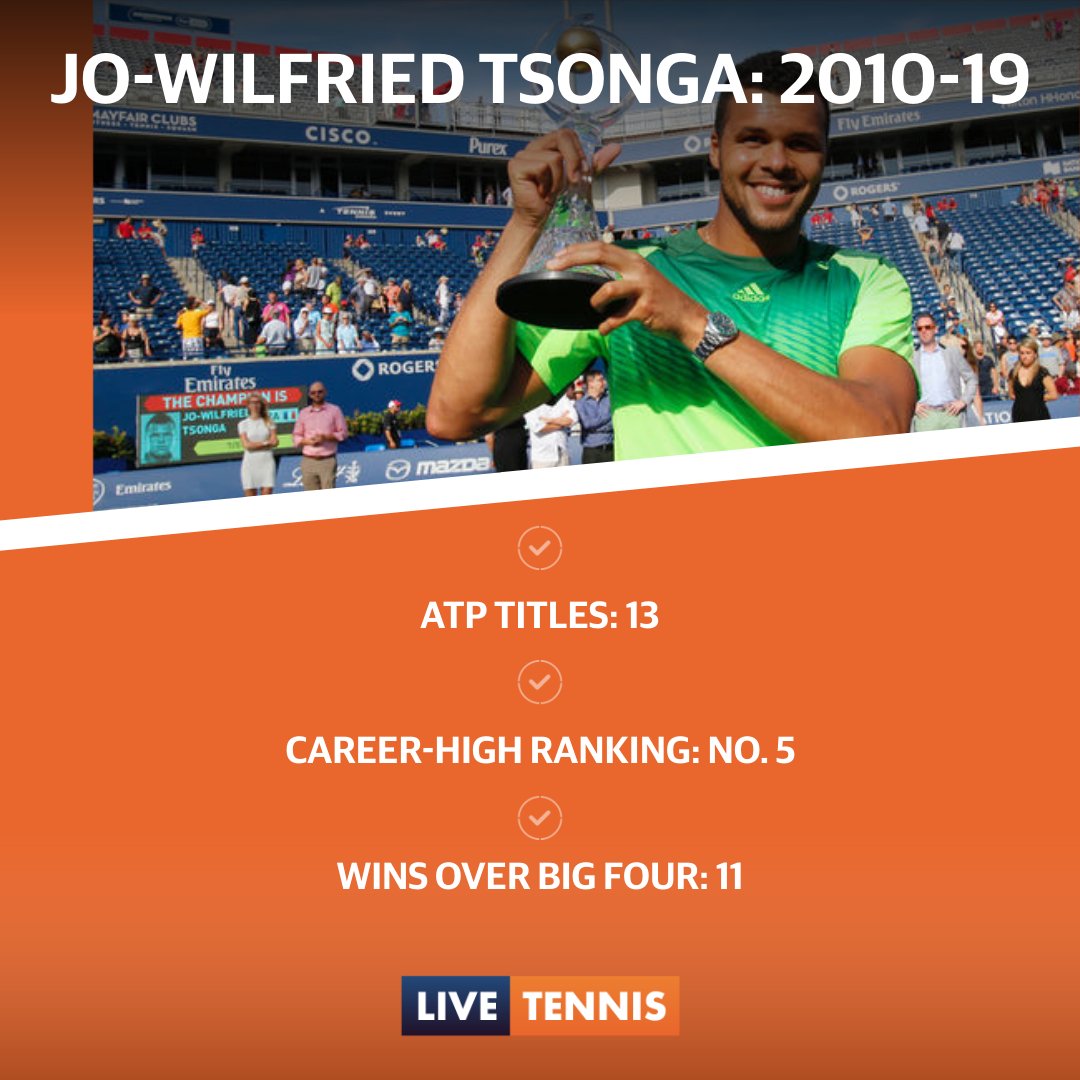 Nevertheless, Tsonga still managed to assert himself amongst such illustrious company, defeating Nadal on his way to the season-ending ATP Finals final in London in 2011, while he was also a four-time Grand Slam semi-finalist this decade, making two at the French Open in 2013 and 2015 and two in back-to-back years at Wimbledon in 2011-12. Tsonga regularly went deep at Masters 1000 level as well, finishing runner-up in Paris 2011 and Shanghai 2015 to go with his triumph in Canada 2014.
Altogether, Tsonga captured 13 ATP titles this decade and was a consistent spearhead in the French Davis Cup team, helping them win the 2017 trophy and reach three more finals in 2010, 2014 and 2018.
Even in the twilight of his career towards the end of the decade, Tsonga has been showcasing his fighting qualities and genuine passion for the sport, recovering from knee surgery (that saw his ranking plummet outside the top 250) and climbing back up to a current season-ending mark of No. 29, winning two titles in 2019 in Montpellier and Metz.
I think we'd all be in agreement that the decade would have been a lot less entertaining if it wasn't for Tsonga's explosive brand of tennis and infectious personality.